Best Rum Punch In SKN: Sunshine's Beach Bar Wins Award
By: Contributor
Sunshine's Beach Bar and Oualie Beach Hotel were announced as first and second place winners for the best rum punch in the Federation.
The overall winners Sunshine's Beach Bar were presented with their award which was accepted by Mandela Caines.
The presentation was made by Troy Taylor CEO of the Caribbean Rum Punch Festival. Minister of Tourism, Hon. Lindsay Grant was also apart of the presentation party.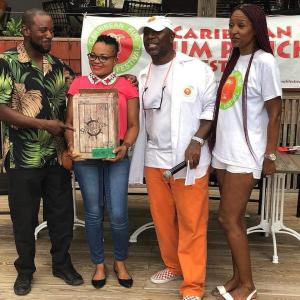 Oualie Beach Resort took second place. Both Oualie and Sunshine's were among the six teams that made it to the final event.
The competition was held as part of Restaurant Week 2019 and the final event was held on Sunday 28 July.
Sunshine's Beach Bar also won the People's choice award on Nevis while Vibes Beach Bar won People's choice award on St Kitts.