Judge grants Douglas permission to file application to throw out civil suit, his defense team opposes applications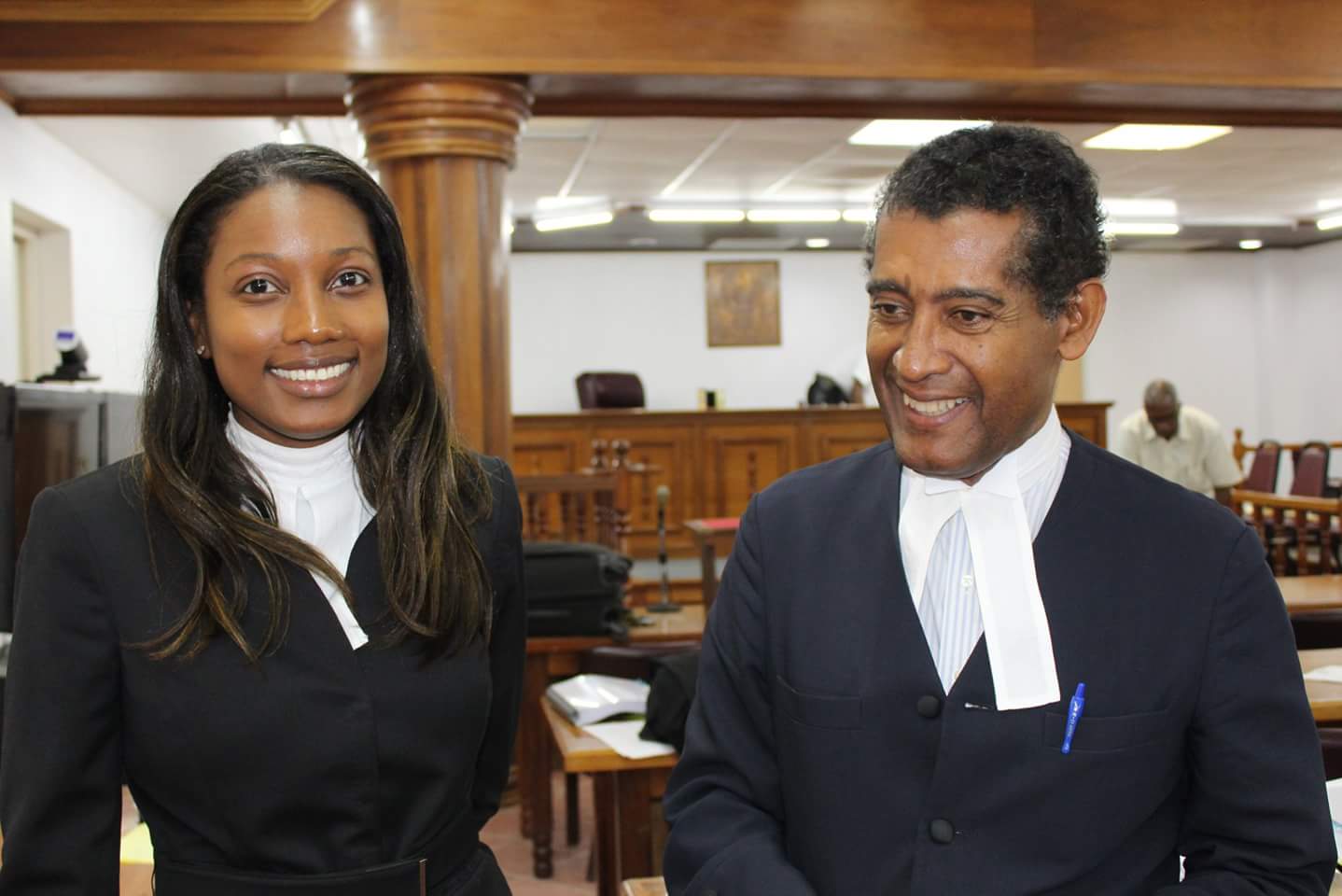 Photo 1 – Angelina Gracey Sooko-Bobb (left) and Delano Bart QC.
547/2018
Basseterre, St. Kitts, June 16, 2918 – A High Court Judge in St. Kitts on Friday gave defense lawyers for Leader of the Opposition, the Rt. Hon. Dr. Denzil L. Douglas, permission to file an application to throw out a civil matter brought against the island's longest serving parliamentarian.
Friday's court hearing at the Sir Lee Llewellyn Moore Judicial and Legal Services Complex also dealt with four applications brought by Anthony Ross, the lawyer for the claimant, Cuthbert "Big Chief" Mills, a painter from Newton Ground, who the Office of Prime Minister Dr. Timothy Harris promised "15 minutes of fame" to pursue Harris' personal vendetta against Dr. Douglas.
Photo 2 – Leader of the Opposition the Rt. Hon. Dr. Denzil L. Douglas (left), Delano Bart QC (center) and Central Basseterre Labour MP, Hon. Marcella Liburd
The first application to the Court sought to consolidate Mills' case with that of the Attorney General, Sen. the Hon. Vincent "Juicy" Byron.
"Our position was simply that the (St. Kitts and Nevis) Constitution does not allow Mr. Mills to file a claim after the Attorney General has filed or to in anyway join the Attorney General's claim and what he is seeking to do is to piggyback on the Attorney General's claim for his claim is devoid of any merit," said Angelina Gracey Sooko-Bobb, who presented the arguments before Justice Warde.
The second application was an application to call expert evidence from Dominica in Dominica law.
"Our position is that while a Dominican lawyer must give evidence, Mr. Mills had to show that the candidate who he submitted should be an expert on the matters at hand who deals with citizenship, immigration and allegiance to a government," said Sooko-Bobb after the hearing.
Photo 3 – Tony Ross QC (second from the right)
She said the candidate whom Mr. Mills submitted "practises in family law and mediation."
"We say that for the purposes of this matter, she cannot be deemed an expert and therefore the application should fail having not reached the required threshold," Sooko-Bobb said.
The third application submitted to Justice Ward in which Mr. Mills sought to throw out Dr. Douglas' defence, was vigorously opposed by the Leader of the Opposition.
"Firstly, it was without merit and secondly, while Dr. Douglas' affidavit was filed two days late it was based on consent from one of Mr. Mills' counsel and the attempt now, to pretend now, that even though the consent was given for Dr. Douglas' affidavit to be filed two days late, the affidavit should not be looked at, is a disingenuous and shaft practise," she submitted.
Photos 4 – Mr, Cuthbert Mills (left) leaving the court after Friday's hearing
The fourth application submitted by Anthony Ross on behalf of Mr. Mills pertained to the Dominica Diplomatic Passport given to Dr. Douglas following the refusal of St. Kitts and Nevis Prime Minister Dr. Timothy Harris to provide him with a St. Kitts and Nevis Diplomatic Passport in his capacity as Leader of the Opposition.
"It was for him to disclose the Diplomatic passport in question. Somehow, there was a submission by Mr. Mills that he was entitled to see Dr. Douglas' passport and to look and see whether it was actually used and where it was used.
Photos 5 – section of the large crowd that greeted and waited outside the court for Dr. Douglas.
"Again, we opposed it. Quite frankly, the law does not allow the production of the travel documents that are being challenged and it is not for the defendant to assist Mr. Mills in proving his case. Quite frankly, Mr. Mills has no right or business looking at Dr. Douglas' travel documents from which ever country," said Sooko-Bobb.
Justice Ward reserved his decisions on the four applications submitted by Ross on behalf of Mills.
The Douglas Defense Team made a request to submit a formal application to strike out Mr. Mills' civil suit in its entirety "when stripped to its bearing, it is not a proper claim, it is frivolous, it is vexatious and should be struck out in its entirety and that Dr. Douglas ought not to be troubled with a political nuisance,"
The parties return to court on July 6 when the application to throw out Mr. Mills' case will be heard.
Dr. Douglas' legal team on Friday was led by Mr. Delano Bart QC.
Disclaimer