Excavator pulled from 10-day watery grave at Port Zante
557/2018
Basseterre, St. Kitts, June 18, 2018 – An excavator which plunged into the sea on the western side of the existing cruise ship pier at Port Zante on June 8, was pulled from its watery grave today Monday June 18.
Photos of the salvaging operations show a heavy duty barge removing the excavator on Monday.It was not immediately known the name of the company that carried out the salvaging operations and the cost to do so.
The operator of the heavy equipment miraculously escaped death or serious injury when the incident occurred at the construction site of the controversial second cruise ship pier at Port Zante.
The excavator toppled into the sea on June 8 when it lifted one of the huge boulders that protect the bulkhead at Port Zante.
The driver who was trapped under water kicked out the glass section of the excavator to avoid drowning.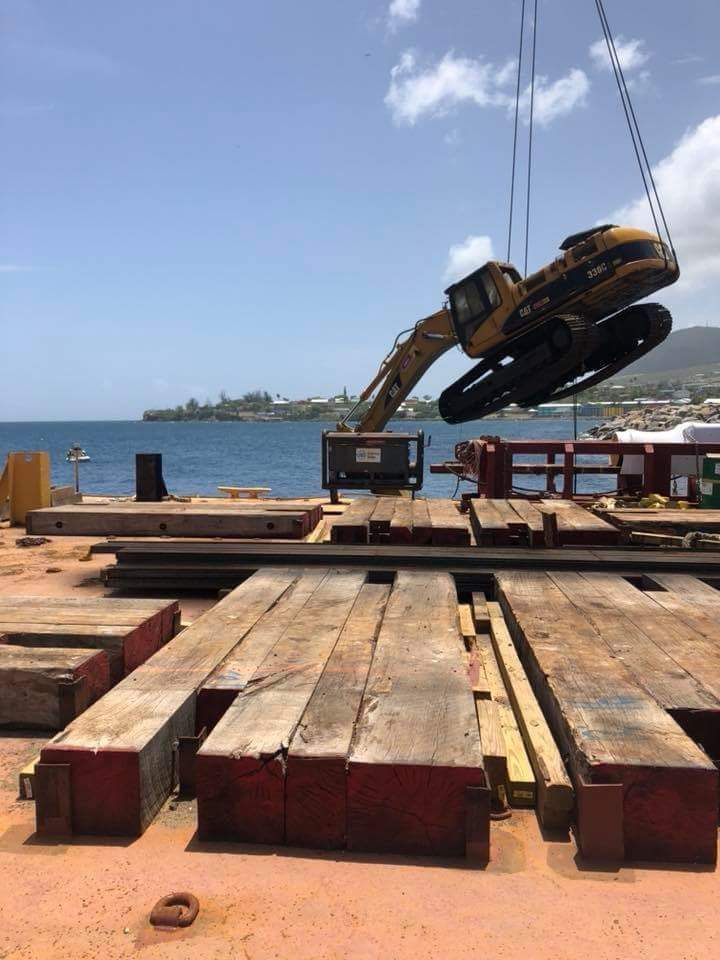 Work grounded to a halt. Construction began earlier this month.
In keeping with the government's policy of suppressing information, there has been no report of the salvaging or of the incident from the main contractors involved in the project, the Canadian Commercial Corporation (CCC), prime subcontractor JV Driver, the St. Christopher Air and Sea Ports Authority (SCASPA), the Minister of Infrastructure, Hon. Ian Patches Liburd, the Minister of Tourism, Hon. Lindsay Grant, the Minister of Labour, Hon. Vance Amory, the Urban Development Corporation (UDC) or Coast Gurad Unit of the St. Kitts-Nevis Defence Force or the St. Christopher and Nevis Police Force.
Scheduled to cost EC$86.4 million under the then governing St. Kitts-Nevis Labour Party administration, the cost of the cruise ship pier ballooned to a whopping EC$129.6 million price tag – EC$43.2 million more under the Timothy Harris-led Team Unity Government.
SCASPA has secured a EC$91.8 million loan from National Bank. The St. Kitts and Nevis Social Security Board is putting in EC$18.9 million, the St. Kitts and Nevis Sugar Industry Diversification Foundation (SIDF), EC$13.5 million and the St. Kitts-Nevis-Anguilla Trading and Development Company (TDC), EC$5.4 million.
Photos show the salvaging operations on Monday
Disclaimer